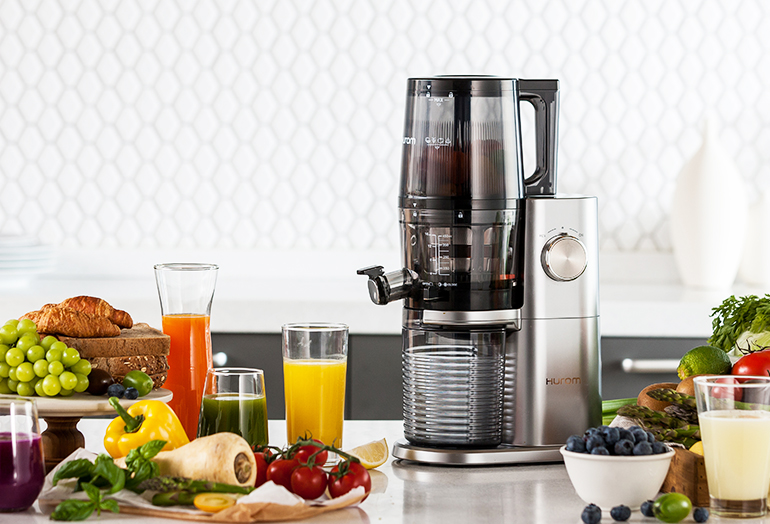 Jan. 10. 2018
Hurom H-AI Series Smart Hopper slow juicer receives positive feedback from CHOICE
Hurom H-AI Series Smart Hopper slow juicer receives positive feedback from CHOICE
Hurom's latest model, the H-AI Series juicer, has been given a high rating by the leading Australian consumer advocacy group CHOICE. Founded in 1959 by several professors at the University of Sydney, CHOICE is a non-profit organization that assesses a diverse range of consumer products and releases its assessment data and evaluations through its website and magazine. It has over 200,000 regular subscribers and is regarded as highly credible, which is proven by the fact that 70 percent of Australians purchase products based on the assessment results published by CHOICE.
Hurom's H-AI Series received the highest ratings in most of CHOICE's 42 assessment criteria for juicers, including juice yield, juice quality, ease of use, and brand satisfaction, and was recommended as a "must-buy" product.
The H-AI Series is characterized by the convenience it offers users through its application of a one-stop method that begins with the user inserting the ingredients into the smart hopper.
After cutting the ingredients into large pieces (they don't have to be diced!) and inserting them into the smart hopper, which can hold a large quantity of fruits and vegetables, all you have to do is turn the jog dial. The mixing bar then starts rotating, trimming the ingredients, and automatically feeding them down into the juicing chamber. When juicing ingredients of varying sizes, the user can replace the smart hopper with the dual hopper. The vertical layout of the hopper, chamber, and pulp container guarantees easy pulp discharge. Also, with a built-in pulp container, the H-AI Series juicer takes up much less space than other models.
Source: https://www.choice.com.au/products/home-and-living/kitchen/juicers/hurom-h34-one-stop-slow-juicer